Supreme Orthopedic Systems, Inc. is the region's gateway to orthopedic education.

With Arthrex's support, we are able to facilitate the hands-on technical education necessary to ensure that equipment innovation is met with practiced skill at our NEW headquarters and BioSkills Training Center in Columbia, Maryland and our BioSkills Training Lab in Salisbury, Maryland.
Technical Training events for both our surgeon customers and our sales representatives are conducted throughout the year within our state-of-the-art BioSkills Training Center – home to eight fully equipped arthroscopy stations showcasing Arthrex's Synergy 4K platform, a 75-person lecture hall and rathskeller.
Several times a year, Supreme Orthopedic Systems hosts courses instructed by local and national thought leaders in the Surgical community. Course curriculums reflect current topics in Orthopedics and enable an open forum for discussion and hands-on instruction, with attendees from throughout the DMV area. In addition to these larger courses, Supreme supports several local resident programs with lab events throughout the year, and Single Day Lab events for individual surgeons are hosted on a daily basis, both of which are available upon request.
Supreme's administrative headquarters and premiere BioSkills Training Center is conveniently located in Columbia, Maryland near the intersection of Interstate-95 and Route 175 in the Columbia Gateway Business Park.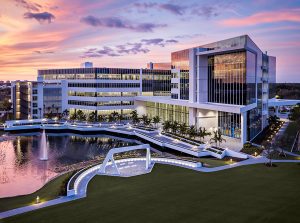 Arthrex offers single-day courses and symposiums for sports medicine, shoulder and elbow, knee, hip, extremity procedures, shoulder fracture and arthroplasty, and biologic augmentation. Along with its national headquarters and the new Innovation Hotel and Conference center, an entire campus is available for a fully integrative learning experience for the individual surgeon or up to 1200 surgeons in Naples, FL. You will also find Arthrex product engineers and representatives providing support at a variety organization sponsored events and skills labs.
Request Medical Education For Your Organization And Staff
Supreme's primary form of medical education is the Single Day Lab, an event that is specifically tailored to meet the needs of one or two surgeon attendees. A Single Day Lab will provide access to the full capabilities of our BioSkills Training Center, as well as the expertise of our Technical Consultant and Medical Education staff. Contact your Arthrex representative to schedule one today, or click the button below.